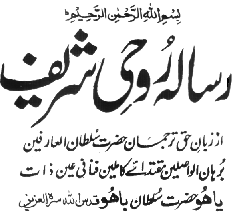 Risala Roohi Shareef

The Book of Soul

By
Hazart Sulatn Bahu (R.A)




The 17th century saint, Hazrat Sultan Bahoo (R.A) authored over 140 books, of which around 40 are still available. All of his books are in Persian except the collection of his poetry, which is, in the form of Punjabi couplets.
Risala Roohi Shareef, is one of his most concise & representative books. Also, the 'Risala' is the only of his books, which has been often prescribed as Wazeefa, by the saints of the order. This is why original text & transliteration has been included in this compilation, so that reader could get maximum benefit & barakah.

Persian Text & Urdu Translation by  Faqir Noor Mohammad Sarwari Qaderi Kulachvi (R. A)

Original Persian Text, English Translation & Transliteration

For Further Information on the Subject
Hazrat Faqir Abdul Hamid Sarwari Qaderi
P.O.Kulachi
Distric Dera Ismail Khan
N.W.F.P.
Pakistan

Khalifa Faqir Saeed Ali Sarwari Qaderi
P.O.Box 38352
Booysens 2016
Republic of South Africa


Calligraphy, Translation Transliteration
by
Qirfiraz Ahmed Siddiqui qasidd@hotmail.com

Web Designed
by
Tabassum Siddiqui

This page has been visited
times.